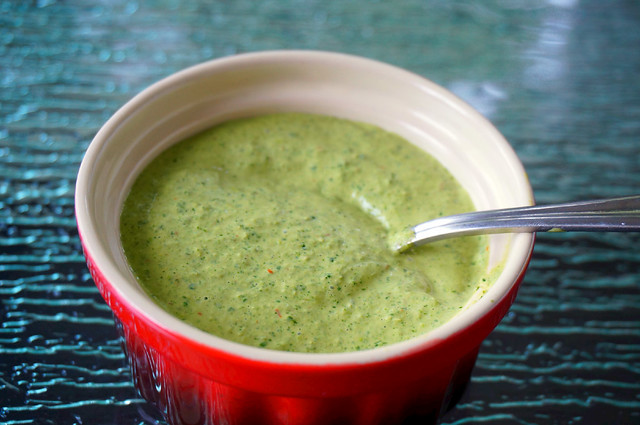 So here in Columbus, Ohio, there's a restaurant named El Arepazo Latin Grill. About a decade ago they opened downtown, and immediately they were on the go-to list of all the city's foodies. They serve fresh, delicious Venezuelan food: perfect rice and beans; crispy, salty meats; soft, sweet fried plantains; and of course arepas, the corn griddlecakes that give the restaurant its name. But as much as people were excited by all those menu items, they were all overshadowed by a mysterious green sauce that came with every entree. Creamy, herbaceous, and a little zingy, it was an instant hit. I can't even begin to count the number of spontaneous rhapsodies I heard from people talking about it.
But what is that sauce? Well, over the years we've gotten a couple hints, and devotees have used their taste buds to work out copycat recipes. One of the clearer tipoffs was a brief mention in Crave, a local dining magazine: "this cool and creamy sauce is a take on Venezuelan guasacaca, without the discoloration that comes from avocados." A-ha! If you go out looking for guasacaca recipes, you'll get a lot of variations, but all of them include cilantro and parsley, with the avocado providing a creamy base and some chiles and acids rounding out the flavors. From there it was just a hop, skip, and a jump to subbing in mayonnaise as the creamy base and tweaking the flavorings until my eyebrows shot up to my hairline. My version isn't exactly like El Arepazo's — where's the fun in that? — but it has the same craving-inducing magic as its inspiration.
So what can you do with it? Oh, boy. Well, you can certainly put it on grilled or seared meat and vegetables with rice, in the spirit of the the original restaurant.
It's a great salad dressing.
And if you, like me, enjoy a savory breakfast, I can attest that a bowl of rice drizzled with this magic sauce is a breakfast of champions. (And if you're not taking pretty food blog pictures, you can be much less restrained than me.)
Or you can do all the things with it that are just too embarrassing [embarrassingly delicious, that is] for a food blogger to put up: use it for French fries, pasta, pizza… I won't tell. I'll be too busy covering my slice of spicy pepperoni in tangy, spicy green sauce.
Creamy cilantro sauce (à la El Arepazo)
This sauce is a light-green miracle: no matter what's on your plate, it goes. It perks up grilled meats and veggies, it adds zest to rice and other grains, it makes a fine salad topping, it's perfect for French fries and plantains. At El Arepazo restaurant in Columbus, OH, whose sauce inspired this one, they long ago had to start charging a quarter each for extra 1 oz. cups of the sauce, because customers will put it on everything. And who can blame them?
Inspired by a different riff on the sauce at Kulishana, and of course by the original at El Arepazo in Columbus, OH.
Ingredients
1/2 c mayonnaise
1 1/4 c cilantro (roughly torn or chopped leaves and tender stems)
1/4 c flat-leaf parsley (roughly torn or chopped leaves and tender stems)
1 serrano chile, seeded and roughly chopped
1 garlic clove
1 Tbsp lime juice
1 tsp Aleppo pepper (see Options)
Pinch salt
Pinch sugar
Directions
Combine all ingredients in a blender or food processor and run at high speed until the mixture is smooth.
Blender or food processor? It's a trade off. The food processor will break everything down without complaint, but in my experience it'll never quite get as smooth. In the blender, on the other hand, the mixture becomes quite smooth, but it takes some work. (You'll likely need to poke at the mixture to knock the herbs down toward the blades: use a spoon or spatula, and for goodness' sake turn off the motor first; minced fingertip isn't a useful addition to this sauce!)
Serve on, basically, everything. This sauce is best fresh, but it will keep refrigerated for a week. (Or so: I've never managed to hold off eating it that long.)
Options
Aleppo pepper is a coarsely ground, moderately hot red pepper. It has a tart, raisiny taste like ancho chiles and sundried tomatoes, but with a kick, and it's one of my absolute favorite spices. If you can find it (or order it!) I encourage you to try it out anywhere you might use a shake of crushed red pepper or other dried chile. If you don't have access, though, a scant 1/4 tsp of cayenne will work just fine.
Feel free to leave out the serrano and/or the Aleppo pepper if you don't like spicy sauces; I personally do, but the sauce is happy to be used either way.
You might try reverse-reverse engineering this back toward its guasacaca roots and throw in the flesh of an avocado, either in addition to or instead of the mayonnaise. Bear in mind that sauces with avocado will discolor after a while, so serve fresh.
The amounts given are for a fairly reasonable amount of sauce, but we're not always reasonable people, are we? And one of the great things about making delicious foods for yourself is not having to ration them. Which is all a long way of saying: you might as well double this.