I'm really late to this sheet pan supper thing, I'll admit. I seem to remember first hearing about the concept a few years ago, which tracks with the results of my extensive research (read: a couple Amazon keyword searches, sorted by publication date): the epicenter of the sheet pan supper phenomenon seems to be Molly Gilbert's Sheet Pan Suppers, published back in December 2014. It looks like it's probably a great book! I don't know, though, because I actually, uh, haven't ever read it. Oops?
What can I say? I guess it just didn't hit me at the right time. You may have noticed, if you've been reading this blog for a while, that I don't really roast that much. It's frankly ridiculous, since roasting is so easy and so good, but I like to poke at things on the stove. I can't muck about with things in the oven, and it makes me a little antsy.
This past weekend, though, I found myself with a pile of bright, grassy asparagus after a spree at the farmers market. I knew I wanted to roast them, but dinner needed to happen too: asparagus, for all its glories, is not itself a filling meal. But also floating around the kitchen were a collection of odds and ends that all, miraculously, went together: a handful of Yukon Gold potatoes, half a small cabbage, some smoked sausage. Now that sounds like a meal. And the vague memory of reading about sheet pan suppers floated around in my head… how hard could it be?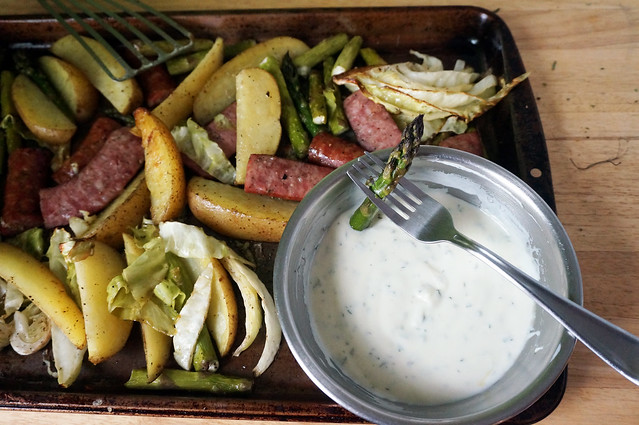 Not hard at all, as it turns out. It took a couple tries to get the timing where I wanted it so I could get the potatoes cooked through without burning the cabbage or asparagus — we're still eating roasted veggies and sausage, which is not hard at all, let me tell you — but even the less perfect ones were still delicious.
The whole thing comes together with a creamy yogurt-based dipping sauce (more odds and ends, with an assist from the neighbor's oregano that's begun to run wild under our fenceline). The cool yogurt, flecked with bits of oregano and mint, gives a light, almost beachy feel to the meal, perfect for these warming early spring nights. Jarod and I ate a whole panful between us. We divided it out on plates, but looking forward I think this could be a great meal to plunk down as-is in the middle of a table and let people dig in from the communal platter. Maybe a good use for those fondue forks gathering dust in the attic.
So, sorry sheet pan suppers: my bad for ignoring you for so long. That was, in fact, simple and easy, and I can't wait to make more. Maybe I'll even finally read Molly Gilbert's book!
Roasted vegetables and sausage with herbed yogurt sauce
Fresh spring asparagus roasted with wintery potatoes, cabbage, and sausage, all ready to be dipped in cool, herb-flecked yogurt: it's a meal for the ever-changing early spring that looks forward to al fresco dining with friends, but I can attest it's equally wonderful for an indoor dinner for two.
Ingredients
1 to 2 lbs asparagus
1 lb green cabbage (roughly half a small cabbage)
2 lbs Yukon Gold potatoes
1 lb smoked sausage
Salt and pepper
Olive oil
1 cup plain yogurt
2 Tbsp finely chopped fresh oregano
6 mint leaves, finely chopped
1 Tbsp olive oil
1 tsp lemon juice
Big pinch salt
Directions
Preheat the oven to 400°F.
Prepare the roast ingredients:
Asparagus: snap off woody ends, then break into 2-3″ pieces
Cabbage: slice through the core into narrow wedges, trying to keep the leaves attached to a bit of the core
Potatoes: halve lengthwise, then slice into fairly thin wedges
Sausage: halve lengthwise, then cut into 2-3″ pieces
Divide the roast ingredients between two rimmed baking sheets. Sprinkle generously with salt and pepper, then drizzle with olive oil. Rub the olive oil all over the roast ingredients with your hands, until everything is coated.
Roast in the middle of the oven for 30 minutes, tossing every ten minutes. (If your baking sheets will not fit side-by-side on a single rack, swap racks whenever you toss.)
While the vegetables and sausage are roasting, combine all sauce ingredients in a small bowl and keep chilled.
When the roast is getting some light browning and the potatoes are easily pierced with a thin knife, serve it forth! You can be civilized and let everyone serve themselves a separate portion, but next time I think I'll just plop the bowl of sauce right in the middle of the pan, set the pan on the table, and let everyone dig in.
Options
I didn't have any onions around (I know!), but some small onion wedges would be great here.
If you'd prefer to avoid dairy, a simple lemon vinaigrette with fresh herbs would make a delicious alternative.